My last post was the included the first set of pictures I took of the Elizabethan vampire doll I made my husband for Christmas (his idea, I swear!) Here are a few more...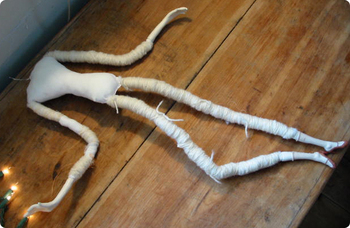 I find it very hard to stuff long tubes of fabric for the arms and legs, so instead I wrap the stuffing tightly with yarn, going up and down the limb several times to ensure there are no cracks for stuffing seep out. After I took this picture I wrapped the limbs again and glued down the errant pieces of yarn that you see sticking out. The heels are made from paperclay then glued to the shoe.
Can you tell I've been influenced by Edward Gory and Tim Burton? The limbs look almost absurdly long like this, but it all comes together when she's dressed.
After many messy attempts, I've finally figured out an easy and tidy way to make fitted pantaloons (a doll just seems incomplete to me if she doesn't have some decent underwear in which to go out into the world!)
These ones were made from curtain material in the upholstery section of the fabric store – no hemming required!
This is the embroidered fabric I chose for the over-skirt. I cheated a little and attached a panel of contrasting material, rather than add an entire underskirt. This is to avoid adding bulk to the figure and preserve her shape. (And that's my mom's cute tomato pin-cushion, and one from Chinatown in Toronto...love those little guys who hang on around the edge!)
The completed skirt...
...and from the back. In this shot you can also see the back of the one-piece corset. But why is it so wide, you ask?
Most of my research involved making this Spanish Farthingale, or skirt shaper, which were emblematic of Elizabethan silhouettes. It's fairly authentic, although presumably the Elizabethan's didn't use strips of yoghurt containers to provide the rigid form…I sewed channels into the double layer of fabric and inserted the supports, which I attached with copper brads.
Here she is, breast plate attached, and mostly clothed – I'm annoyed with myself for forgetting to take a picture of the corset before I attached it – it was fun to make. It's all one piece with two layers of fabric with channels for boning (thin strips of silk-covered cardboard in this case.) I found the pattern on this website and made a mock-up from paper towel so that it would be perfectly fitted to her body…it took me hours, but gives her a very authentic look, I think.
Her sleeves are the same dupioni silk as the skirt panel, and the puffed sections at the shoulders are sewn and attached separately.
I'll be back soon with the final pictures (I did give her hair eventually!)