Recently I was approached by the lovely Lady Lavona (a little alliteration, loves?) to create an doll of the sublime Edgar Allan Poe. I've long been a fan of this Gothic rockstar, so I was very excited to start the project. Poe was such a physically striking man, but very psychically tormented as well. I read recently that his parents died while he was very young and his nurse gave him laudunum to keep him from crying. No wonder he had a rather bleak view of things! I wanted to capture not only his appearance but the look of anguish one so often sees in pictures of him:
Here he is, in all his misery...he's just missing the little raven I'll
be sending off with him. And of course a post on Poe would not be
complete without some of his lovely, sad words, so I will include the
beautiful "Annabel Lee" at the end of this post. It' s a poem I first
fell in love with in high school when I skulked around in my ripped
black stockings and pounds of eye liner, carrying my little velvet
poetry notebook and feeling generally very tragic. This poem is also
referenced in my all-time favourite book, Lolita, making it super-extra tragic and beautiful.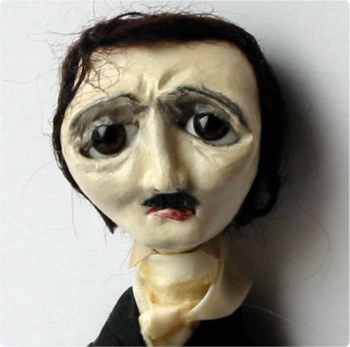 If you read my last post, you know that I am a fan of Arcade Fire, but would it surprise you to know that, despite being a reformed black-only-wearing, poetry-toting sulker, I'm also a huge fan of....this ultra-cool, super-real, down-to-earth most sexiest rock-god who shall remain nameless but appears in this video ONSTAGE with Arcade Fire because apparently people have accused them of imitating the sound of said rock-god in this particular song but rock-god is so cool and gracious that rather than be pissy about it he showed up unannounced (to fans) at one of their concerts and performed the song with and if I had been there I would have totally LOST MY MIND and screamed like hormonal schoolgirl, rather like the people filming this video (if you have sensitive ears be warned - they express their enthusiasm with very, erm, colourful language!)
Annabel Lee

It was many and many a year ago,
In a kingdom by the sea,
That a maiden there lived whom you may know
By the name of ANNABEL LEE;
And this maiden she lived with no other thought
Than to love and be loved by me.
I was a child and she was a child,
In this kingdom by the sea;
But we loved with a love that was more than love-
I and my Annabel Lee;
With a love that the winged seraphs of heaven
Coveted her and me.
And this was the reason that, long ago,
In this kingdom by the sea,
A wind blew out of a cloud, chilling
My beautiful Annabel Lee;
So that her highborn kinsman came
And bore her away from me,
To shut her up in a sepulchre
In this kingdom by the sea.
The angels, not half so happy in heaven,
Went envying her and me-
Yes!- that was the reason (as all men know,
In this kingdom by the sea)
That the wind came out of the cloud by night,
Chilling and killing my Annabel Lee.
But our love it was stronger by far than the love
Of those who were older than we-
Of many far wiser than we-
And neither the angels in heaven above,
Nor the demons down under the sea,
Can ever dissever my soul from the soul
Of the beautiful Annabel Lee.
For the moon never beams without bringing me dreams
Of the beautiful Annabel Lee;
And the stars never rise but I feel the bright eyes
Of the beautiful Annabel Lee;
And so, all the night-tide, I lie down by the side
Of my darling- my darling- my life and my bride,
In the sepulchre there by the sea,
In her tomb by the sounding sea.